Due to continued daily offers of donations from Albertans, we will no longer be having mass donation drives. Once the database of gowns in waiting has been eliminated, we will begin to take 2 donations at a time as our seamstresses require.

THANK YOU to everyone for your understanding and support while keeping your precious wedding gowns safe in your homes for us to use in the future.    Keep watching our Facebook group for updates.
Please read this information prior to completing the following form at the bottom of this page (form is only available when accepting donations so may be missing).   Keep in mind our main objective in this case is to ensure all donated gowns meet the criteria needed to make them into angel dresses so they are used in the manner intended by the donator.
What kind of dresses do you accept?  We are looking for wedding gowns that are  satin or have a similar soft satin feel.  Fabrics may include items such as Charmeuse, Rayon, Satin or Silk.  Depending on seamstress requirements needs lace or chiffon may be accepted for embellishments
Do we accept bridesmaid or grad dresses as well as wedding gowns? We are accepting ivory, white, light blue tones and pastel colored satin bridesmaid dresses in smaller quantities. Donations outside the colors noted above will be reviewed at the time of the donation request based on seamstress needs.  Colored dresses as well as their lace and beading can be used for accenting Angel Dresses however only a limited number will be required at a time. For more information or questions, visit the FAQ for more information or   Contact Us
Examples for Styles of Dresses not accepted
These stunning organza and tulle wedding gowns cannot be accepted for Angel dresses because they are too rough for angel babies very delicate, almost translucent skin.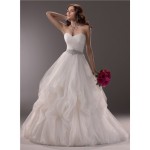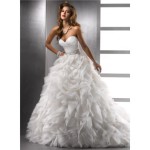 Although the below gown is made of satin we cannot accept starburst pickup type gowns as when they are dismantled,  holes remain in majority the dress fabric